There is a difference between sentimentality and honest sentiment.
-Barbara Stanwyck on her role in Stella Dallas
I hardly ever remember celebrity birthdays, and wouldn't have without glancing at Lolita's page, but because I now know, and because I always seem to be up for gushing about Barbara Stanwyck, here we be. If you want to look at some amazing scans, The Classic Maiden has aplenty for the occasion (her stanwyck collection is a sight to see).

Note: Instead of being a day late and a dollar short as is my usual custom, I choose to be the day early bird that catches the worm because the day of I will be at work, and tomorrow evening (yes, I openly admit it) I'm seeing the Harry Potter Movie.

I imagine the abridged version of Barbara's life would read something like this:
Barbara Stanwyck was born Ruby Catherine B.A.M.F in training tough as nails will cut you like the Queen Stevens (you can see why they changed it) July 16th in Brooklyn, NY 102 years ago, and I imagine if she had it her way she would still be working. Smoking kills, kids. She was the consummate professional, and garnered tremendous amounts of praise from practically everyone she worked with. There were no "you rock, don't ever change" remarks made in her acting yearbook, but a verifiable love fest as gathered together by Ella Smith in her book Starring Miss Barbara Stanwyck. In a special on the making of The Thorn Birds, Richard Chamberlain said that she was everything that you have ever heard about her and more. He then went on to say how honored he was that he seemingly turned the old girl on in his nude scene and laughed in a really creepy way, but I digress.
Though she is best known for her performance as that femme fatale of all femme fatales Phyllis Dietrichson in Double Indemnity, or even for her role as Victoria Barkley on the tv western The Big Valley (and I adore both), for me Babs was at her best in comedy.
My Favorite Babs Performances:
Ball of Fire (1941): It's just pure 40s fun and was the film that made me a fan. It features a host of fantastic character actors, and babs and gary cooper are adorable.

Baby Face (1933): In this racy pre-code Babs quite litereally sleeps her way to the top of an established bank. Ohh the censors had trouble my friends. Right there in New York City.

Clash By Night (1952): Babs in all of her melodramatic glory (and an early performance of Marilyn Monroe). Pure 50s angst.

Lady of Burlesque (1943): How can you hate a ridiculous B movie based on a book by Gypsy Rose Lee called The G-String Murders? And if I can do splits and cartwheels when I'm 36 I'll be in pretty good shape.

Honorable Mentions: Titanic (1953) and any of her work with Frank Capra from The Miracle Woman (1931) and The Bitter Tea of Genera Yen (1933), two startlingly gritty Capra before Capra pictures, to her later work in Meet John Doe (1941). Basically I've never run into a Stanwyck film I didn't like. Well, except for The Bride Walks Out, which I wish I could kick in the teeth.
Much as I love Meryl Streep, Bette Davis and Katharine Hepburn, she definitely has my vote for best actress of our time.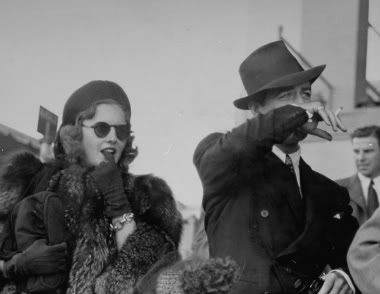 "Barbara Stanwyck, who lives for today and tomorrow and only seldom for yesterday, did, however, sit up late one night talking with me about her childhood. And some of the things she said are now permanently etched in my memory."
I cannot recall, Shirley," she said, "ever hearing anyone say to me as a child, 'I love you!'" Barbara spoke of having no memories of her father or mother, since both had died soon after she was born. "I tell you this," she continued, "only to make you aware of how fortunate you are to have been surrounded by so much love all your life. Both your parents who love you are still alive. You have your husband, your two children, and even members of your husband's family who adore you."
But I'm grateful for what I do have. Every night before i go to sleep I thank God for what he has given me. When I awake each morning I again thank God for being here this day."
Barbara Stanwyck, that night, made me totally aware of how lucky I have been all my life. Until she underlined everything, I now know I had been taking all those blessings for granted."
-Shirley Eder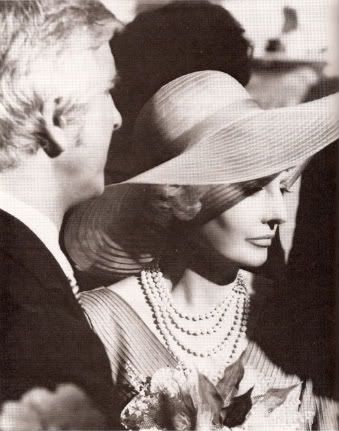 (scanned by me)